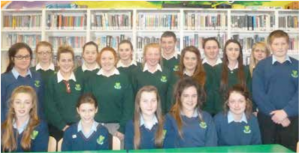 The student council meets weekly with the aim of improving the quality of life for students in Scoil Ruáin. The student council takes an active role in fundraising, organising events and representing the opinions of the student  body.
Scoil Ruáin Student Council 2017
Joe Mee, Chloe Griffin, Isobel Hayes, Sarah Slattery, Maria Hayes, Denis Mulcahy and Liam Mulcahy.