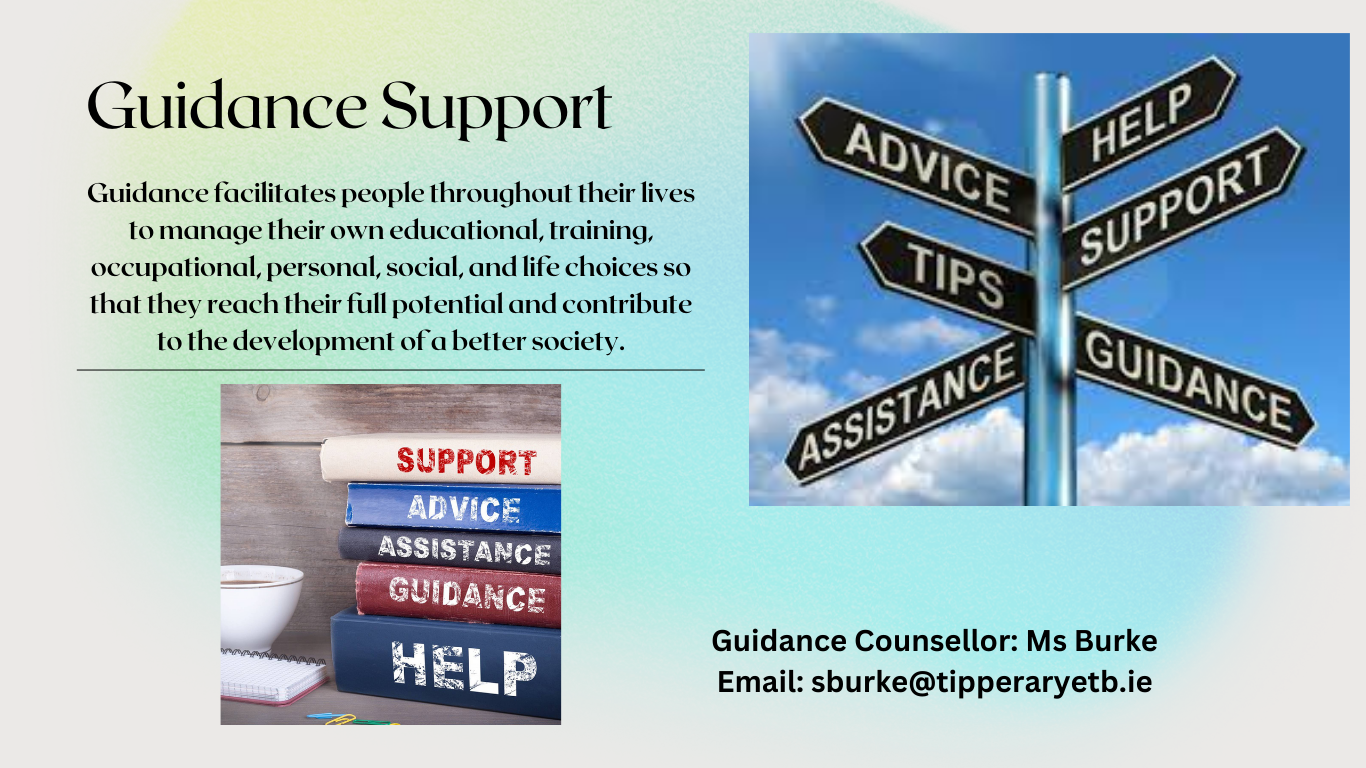 Careers and Guidance Support
At Scoil Ruáin, our Guidance service plays a pivotal role in supporting students as they navigate the complexities of personal, educational, and career decisions. Through a combination of guidance classes, interactive activities, and one-on-one consultations, our dedicated team is committed to empowering students with the knowledge they need to make informed choices.
We also provide counseling services, adopting a holistic approach to help students address any personal or educational challenges they may encounter. Our service works hand-in-hand with the school's pastoral care, disciplinary, and well-being initiatives, fostering a nurturing environment where young individuals can thrive and develop.
Confidentiality is paramount in our work, ensuring that students feel safe and comfortable sharing their concerns with us. At Scoil Ruáin, we are here to support the growth and development of our students in every aspect of their lives.
Personal and Social Development
This section fosters students' ability to make informed decisions, address challenges, modify behavior, and tackle life issues through various means, including:
Individual counseling
Group counseling
Referral to professional counselors or external support agencies
Educational Guidance
Within this sphere of guidance, we recognize the diverse learning abilities and inherent talents of our students. We strive to help each student optimize their learning potential, which involves:
Assisting students in making informed choices regarding subjects, courses, and academic levels
Encouraging motivation and effective learning management
Providing guidance on utilizing available resources, honing study skills, and mastering exam techniques
Demonstrating effective use of computer-aided research tools
Career and Vocational Development
This area of guidance is dedicated to helping students identify their career and vocational aspirations. We aim to develop their self-analysis skills and equip them with the tools to source and manage career information. Our services include:
Providing insight into pathways to higher education
Assisting students in formulating and executing well-suited life plans and choices
Offering practice in interview techniques, curriculum vitae (CV) writing, and cover letters
Identifying strengths and weaknesses through various interest and aptitude assessments
Raising awareness about employment opportunities
Useful Links –
202012031014130.Being-LGBT-in-School