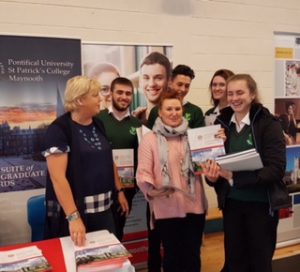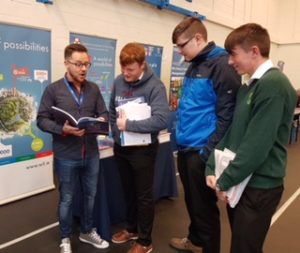 On Thursday the 12th October, 2017 Scoil Ruáin, Killenaule, hosted a very successful Careers Exhibition organised by our Guidance Counsellor, Ms. Joan Costigan.
This was an opportunity for our students to speak personally to representatives of all the major Irish colleges on their very own doorstep. Information was available on applications to all third level courses, apprenticeships, Garda and Army careers and student support services. This was, in fact, a one stop shop for our senior students in preparation for entry into further and continuing education.
Exhibitors were very positive in their feedback. Students were, in their opinion, well prepared for the event with well thought out and pertinent questions. Our students found it a thought provoking, informative and valuable exercise. They greatly appreciated the opportunity to access all of the information available on the day in a calm and caring environment close to home. Each student had ample time to engage with all the exhibitors on every aspect of going to college.
The event was open, not only to our own students in Scoil Ruáin, but to the school communities in the surrounding areas, all of whom were invited to attend on the day. The feedback from those students who availed of this opportunity was extremely positive and students were appreciative of the invitation.
This is our third year to host the event and it has gone from strength to strength. We are grateful to all of our exhibitors – Colleges, Institutes of Technology, PLC Sector, Agricultural Colleges, Garda and Defence Forces and those involved in the training of apprentices. Our thanks also to Una O'Brien who provided students with general information on nursing as a career.